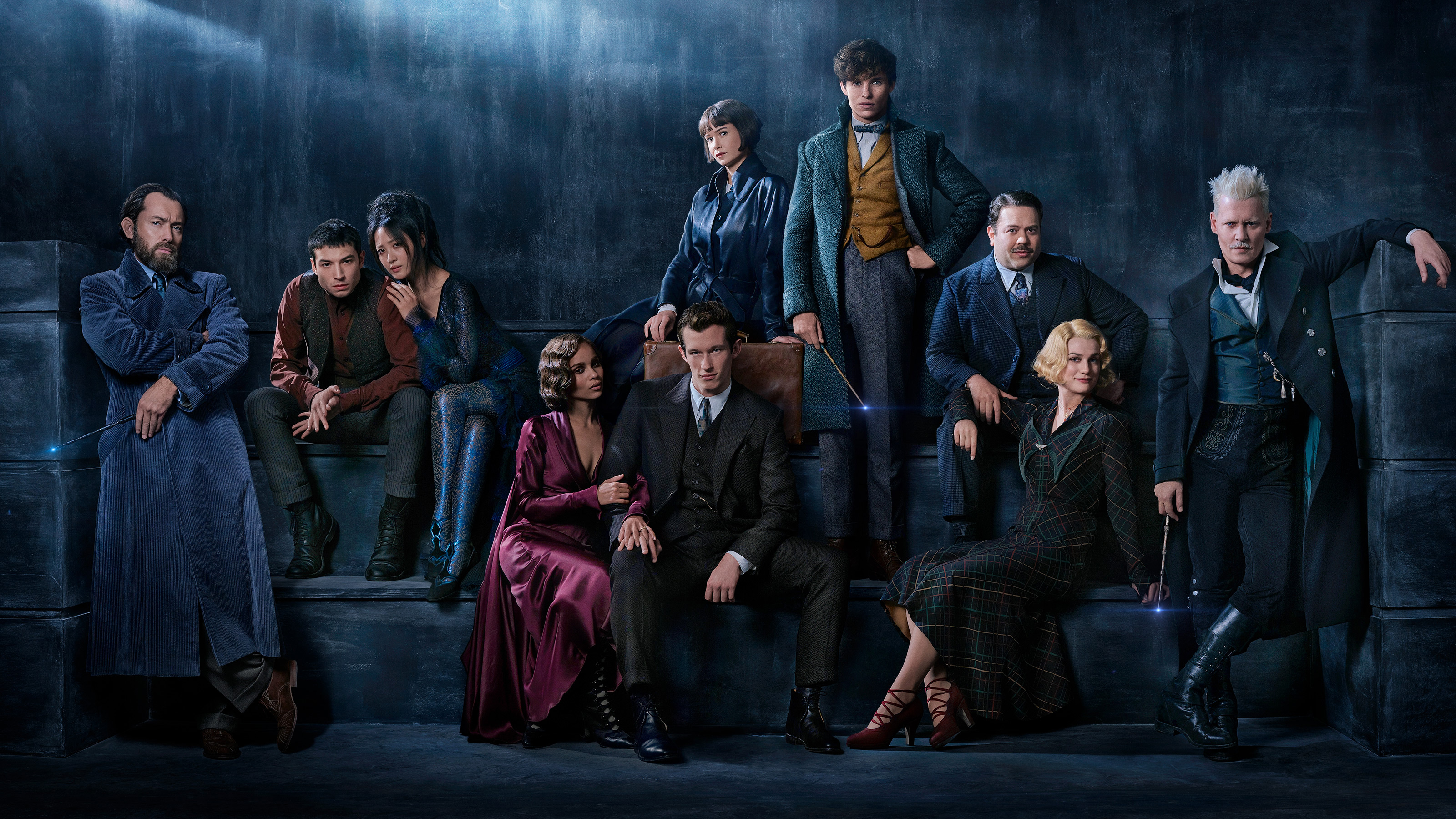 "Fantastic Beasts and Where to Find Them" built a solid base for a new chapter in J. K. Rowling's Wizarding World. "The Crimes of Grindelwald" further elaborates on a time before Harry Potter, introducing new characters, exploring new places, and even catching us off-guard with a few new twists. In some respects, it does exactly what any good sequel should do, evolving an idea further. In other respects, the movie can often feel more like a stepping stone rather than a giant leap forward. While the film adds plenty of fresh ingredients, the final product could've used a little more time in the oven. That's not to say the movie is half-baked, but it does leave you hoping the third course will be slightly more filling.
Taking place several months after the first film, the dark wizard Gellert Grindelwald (Johnny Depp) has staged an escape and fled to Paris. Just as World War II is only a few years down the line, Grindelwald plots to bring about a dark age that'll shatter the peace between the magic and Muggle worlds. Naturally, the most qualified wizard to track Grindelwald down is a young Albus Dumbledore, played by Jude Law. He can't face Grindelwald for ambiguous reasons, however, entrusting his old pupil Newt Scamander (Eddie Redmayne) with this task. On his journey, Newt once again crosses paths with his scene-stealing No-Maj buddy Jacob (Dan Fogler), the wide-eyed Queenie (Alison Sudol), and the no-nonsense Tina (Katherine Waterston). Grindelwald isn't the only foe in Paris either, as Ezra Miller's Credence has returned to unearth his mysterious family tree.
The returning supporting characters are all once again a delight, particularly Fogler as Jacob. Outside of the Dursleys, we rarely got to see how non-magical individuals might respond to the wizard community. It's always fun watching Jacob interact with this world, which he finds confusing and intimidating, but also fascinating and wonderful. Newt's creatures are also endearing to observe, whether they're adorable, vicious, or adorably vicious. That being said, Newt himself has never been nearly as interesting as his friends or fantastic beasts. While not a poor character, you kind of wish that Newt would step aside and let Dumbledore take center stage instead.
Law hits just the right note as Dumbledore, creating a wise yet eccentric leader anyone would want to follow. In many respects, he's more convincing in the role than Michael Gambon ever was. It actually would've made a lot of sense if Dumbledore was the protagonist here, seeing how he has a past connection to Grindelwald and is destined to face him in a duel later down the line. Speaking of Grindelwald, Depp was a controversial casting choice for a variety of reasons. Although he does occasionally slip into his Jack Sparrow routine, Depp ultimately creates a creepy and charismatic villain who may have a dangerous vision, but you could also see why others would share his ideals.
In addition to the usual suspects, the film also introduces us to Callum Turner as Newt's older brother and Zoë Kravitz as one of Newt's former classmates. The relationships between these characters come off as underdeveloped, however. While we're given more than enough exposition, we never feel the emotion. The film also marks the debut of crucial characters from the "Harry Potter" lore, including Claudia Kim as Nagini, who will inevitably turn into Lord Voldemort's snake, and Brontis Jodorowsky as the immortal Nicolas Flamel, who looks like Teddy Perkins from "Atlanta." Both serve little purpose in this story, however, with their presences coming off as pure fan service.
Had "The Crimes of Grindelwald" fleshed out some of its new characters and shifted the attention to Dumbledore, we might've had a prequel well-worthy of this franchise's legacy. As is, it's slow and convoluted in parts, but not without several bright spots. Law, Depp, and Fogler liven matters up whenever they're given the spotlight. Under David Yates' reliable direction, the film is a visual marvel with inventive production design, costumes, and specials effects. The ending in particular will get longtime fans talking and theorizing what's to come next. Of course, since we do still have three more movies to get through, Rowling needs to keep the pacing tighter and the stakes higher going forward.
Grade: 3 out of 5 Stars