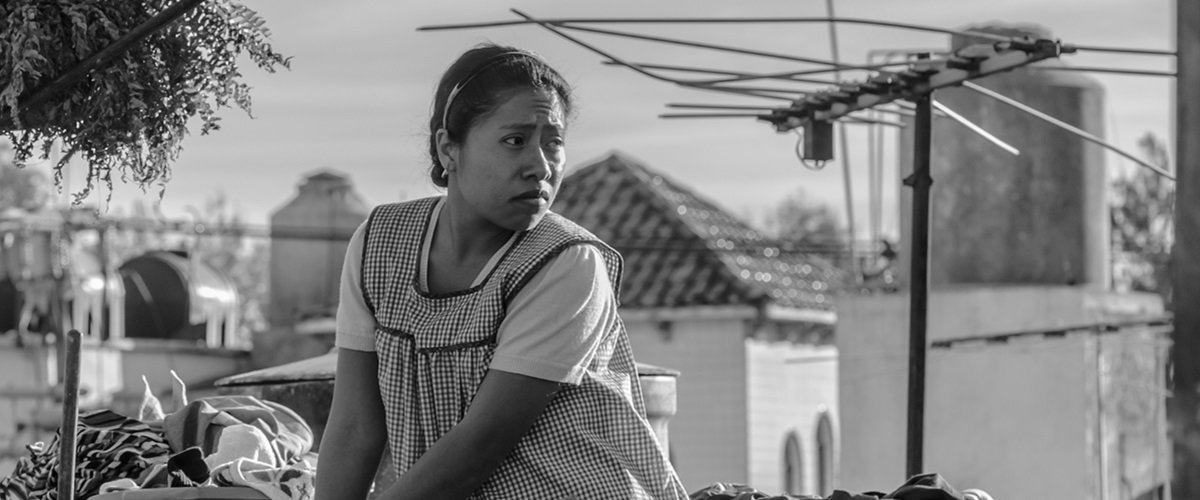 To review "Roma" is like reviewing life itself. Watching Alfonso Cuarón's masterful film, it feels as if we're peering into the daily routine of an actual middle-class family through a black and white lens. Few directors know how to make the audience part of an experience quite like Cuarón. In "Gravity," he launched us into orbit alongside Sandra Bullock. In "Children of Men," he sat us in a vehicle next to Clive Owen and Julianne Moore as all hell broke loose. In "Roma," we step into a maid's shoes as she copes with loss and uncertainty, finding fleeting moments of comfort in her surrogate family. It might not be the biggest film of Cuarón's career, but it's possibly the most profound.
Yalitza Aparicio makes an astonishingly authentic screen debut as Cleo, a housekeeper who works for a family in Mexico City against the backdrop of the early 70s. Although Cleo cooks, cleans, and takes care of the four children, she's seen more as an employee than a family member, which doesn't appear to bother her. Cloe's role in the household becomes more significant, however, when patriarch Antonio (Fernando Grediag) leaves his wife Sofia (Marina de Tavira). Cleo is also dealing with abandonment, as she's been impregnated by a martial artist who coldly refuses to take any responsibility. Over time, Sofia begins to see that she has more in common with Cleo than expected and that her maid may be the reason her family is barely keeping it together.
There are numerous movies where little seems to be happening on the surface, but a ton is happening underneath. To a certain extent, "Roma" falls into this category, getting so much across without relying heavily on dialog. At the same time, this is a movie where a great deal is always happening on the surface, as Cuarón somehow manages to make even the most mundane activities look strangely engrossing. Foreshadowing the climax, the film's opening shot focuses on mop water rushing up and down a tile floor like a wave on the beach. That might not sound like anything particularly exhilarating, but the stunning simplicity of the shot immediately hooks you in. "Roma" is full of shots like this, calling the plastic bag scene from "American Beauty" to mind. As a matter of fact, this whole movie can be described in the immortal words of Ricky Fitts:
"Sometimes, there's so much beauty in the world - I feel like I can't take it, like my heart is just going to cave in."
"Roma" is a slice of life in the purest scene, but that doesn't mean it's a laidback experience. While many scenes center on Cleo's every day chores, this makes it all the more shocking when tragedy rears its head from around the corner. The most extravagant sequence in the film finds our characters navigating through the Corpus Christi massacre, which accumulates to a hospital visit where we actually feel like a fly on the wall. The fact that Cuarón acted as a cinematographer and editor in addition to writing and directing adds a personal touch that can't be beat.
Walking out of the theater, I was at a complete loss for words when asked for my press reaction. I literally needed a moment to collect myself and catch my breath before speaking. This is a difficult film to sum up in just a few words and the same can be said about the world we live in. All I can say is that you're unlikely to see a film in 2018 that packs in more raw humanity. "Roma" can be streamed via Netflix, but much like how a world wonder must be seen in person to be done justice, this a film meant for the silver screen.
Grade: 4.5 out of 5 Stars