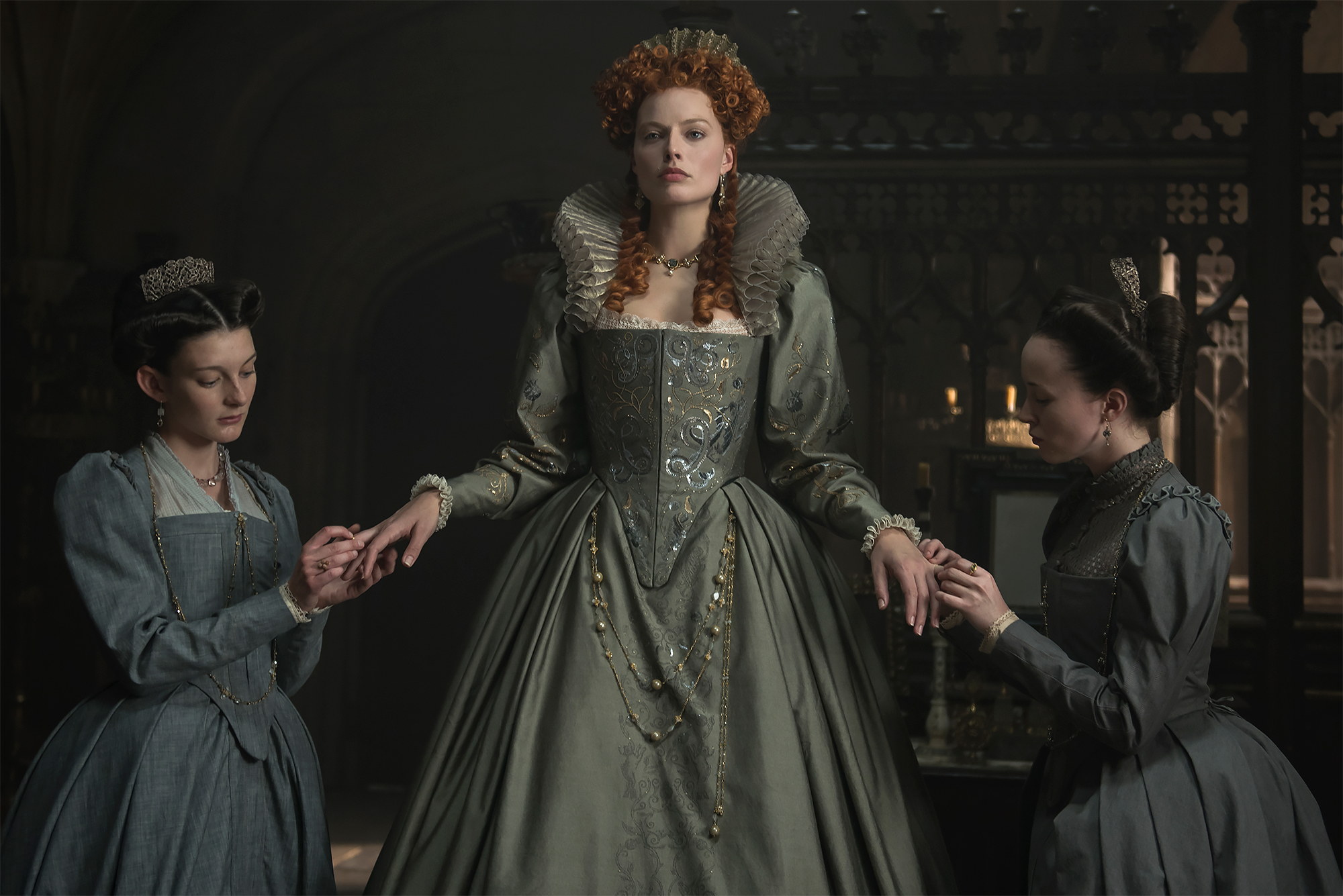 Frances McDormand was basically unstoppable on her road to winning a second Best Actress Oscar. If there were two performers who could've topped her performance in "Three Billboards Outside Ebbing, Missouri," though, it would've been Saoirse Ronan for "Lady Bird" and Margot Robbie for "I, Tonya." These actresses have been on a roll as of late and both turn in equally mesmeric work in "Mary Queen of Scots." They're the main reasons to see this beautifully crafted period piece, which might've reached greater heights had the screenplay taken a few more chances. As is, however, it's ultimately an admirable feat, especially for a first-time director.
Ronan stars as the titular Mary, Queen of Scots, who isn't content with merely ruling over Scotland. She has aspirations to seize control from her cousin Elizabeth I, Queen of England, played by an unrecognizable Robbie. Whether or not you know your history, it shouldn't come as a surprise to anyone that the Rising of the North inevitably goes south for Mary. Nevertheless, it still makes for an interesting true story with Ronan and Robbie never failing to liven up the screen. Weirdly enough, though, this is one historical drama that might've benefited from taking more liberties.
Throughout the film, all we want is to see these two Queens go head to head with each other in person. Similar to "Heat" or "American Gangster," the filmmakers give us what we want in the climax. Historians are sure to call BS on this scene, as there's no evidence indicating that Mary and Elizabeth ever met fact-to-face. At the same time, it's by far the most riveting moment and the film on the whole could've used more scenes like this. Since our leads spend a majority of the film apart, however, the rivalry never feels as strong as it should. It doesn't' help that "Mary Queen of Scots" is coming out around the same time as "The Favourite," another costumed political drama with a much more fascinating rivalry at its core.
Then again, perhaps it's only fair to judge a movie for what it is rather than for what it isn't. For what it is, every shot of "Mary Queen of Scots" is gorgeous to look at. The stunning makeup allows Ronan and Robbie to escape even deeper into their roles, transforming them into different people. Costume designer Alexandra Byrne previously won an Academy Award for "Elizabeth: The Golden Age" and it's entirely possible that she'll pick up another statue for her work here. From the production design to the cinematography, you can see so much passion both in front of and behind the camera. This is made all the more impressive when you consider that it marks Josie Rourke's directorial debut after years of primarily working in the theatre.
As elegant and well-acted as "Mary Queen of Scots" is, you can't help but wish the conflict between our leads felt stronger, even if it meant bending the truth a little more. Considering that the film was written by the showrunner of "House of Cards," maybe a straight-up camp approach would've been the best way to tackle this material. At the very least, the film could've provided more a unique perspective of who Mary and Elizabeth really were. Those performances from Ronan and Robbie go a long way, though, amounting to a good film with glimpses of greatness that occasionally shine through.
Grade: 3.5 out of 5 Stars