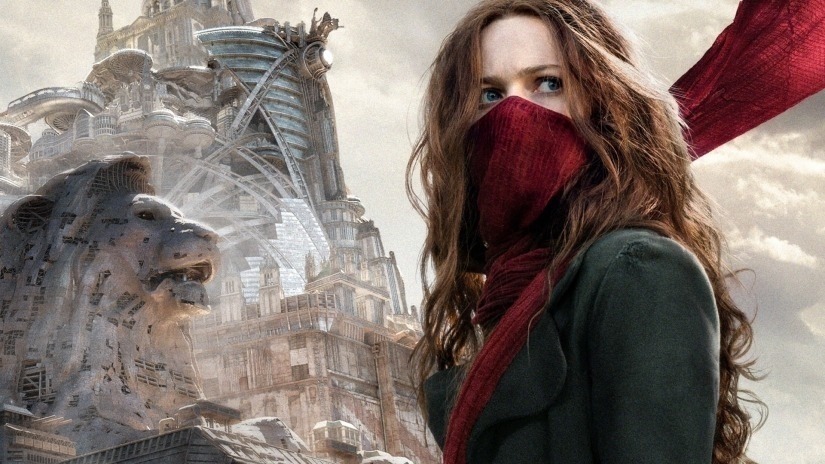 Watching "Mortal Engines," you never doubt the filmmakers' high aspirations. It's clear that they want to make an epic adventure that really triggers the imagination like "Star Wars," "Raiders of the Lost Ark," or "The Lord of the Rings." Speaking of which, the film was produced and co-written by Peter Jackson, who reunites with several major players from his Middle-earth trilogies, including director Christian Rivers. It's possible for a movie to be too ambitious for its own good, however, and "Mortal Engines" sadly bites off more than it can chew. While you certainly feel the size of the picture, you rarely feel the gravitas the filmmakers are aiming for.
Based on Philip Reeve's steampunk novel, the story sets itself in a post-apocalyptic future where the idea of a mobile home has been taken to another level. Entire cities are assembled on wheels, leaving behind tire tracks the size of canyons. On the moving city of London lives a young historian named Tom (Robert Sheehan), who crosses paths with a mysterious outsider who goes by Hester (Hera Hilmar). When Hester fails to assassinate a devious historian named Thaddeus Valentine (Hugo Weaving), Tom gets caught in the middle and is forced to go on the run with her. Trekking through the wastelands and flying through the skies, the race is on to stop Valentine from unleashing a superweapon that'll turn entire cities into junk piles.
"Mortal Engines" opens with a thrilling chase that plays out like the monster truck edition of "Mad Max: Fury Road." The production design and visual effects are down-right awe-inspired with rich detail packed into every corner. Like "Howl's Moving Castle," "Castle in the Sky," and other Hayao Miyazaki films, the technology depicted here is so inventive and you want to know how every little thing works. Of course, Miyazaki's movies also usually have strong characters and involving plots, which is where "Mortal Engines" falls short.
The performances are universally good and the characters aren't bad per say, but they're not particularly involving either. Tom and Hester are to this movie what Orlando Bloom and Keira Knightley are to the "Pirates of the Caribbean" franchise. You tolerate them fine, but every time they're onscreen you wish Jack Sparrow would come back and Johnny Depp is unfortunately nowhere to be found here. Weaving is always a charismatic screen presence, but his villain is fairly by the numbers. Jihae scores a few cool moments as a resistance leader who joins forces with Tom and Hester, but she comes off as underdeveloped nonetheless.
The only intriguing dynamic in the film is between Hester and a cyborg named Shrike (Stephen Lang), who takes her in after the murder of her mother. Looking like a Terminator crossed with Ghost Rider, Shrike is a ruthless machine, but still has essence of humanity in him. He can see that Hester is overwhelmed with pain, which he wishes to take away by turning her into a machine as well. Hester seems strangely okay with this, that is until she kind of flips on a dime. That basically sums up the problem with "Mortal Engines." It has a lot of fascinating ideas, but doesn't allow enough time for them to fully materialize.
While it runs circles around something like "Jupiter Ascending" or the "Warcraft" movie, the characters still back a backseat in "Mortal Engines." There's so much going on here that at times it's hard to even remember what our heroes are fighting for. If this film was going to work, the plot needed to be simplified with more focus. Seeing how there are four novels, maybe a television series would've been the best direction to take, be it live-action or animated. As is, though, "Mortal Engines" is admirable for its marvelous craft and capable cast, but it's otherwise an epic you can easily skip.
Grade: 2.5 out of 5 Stars