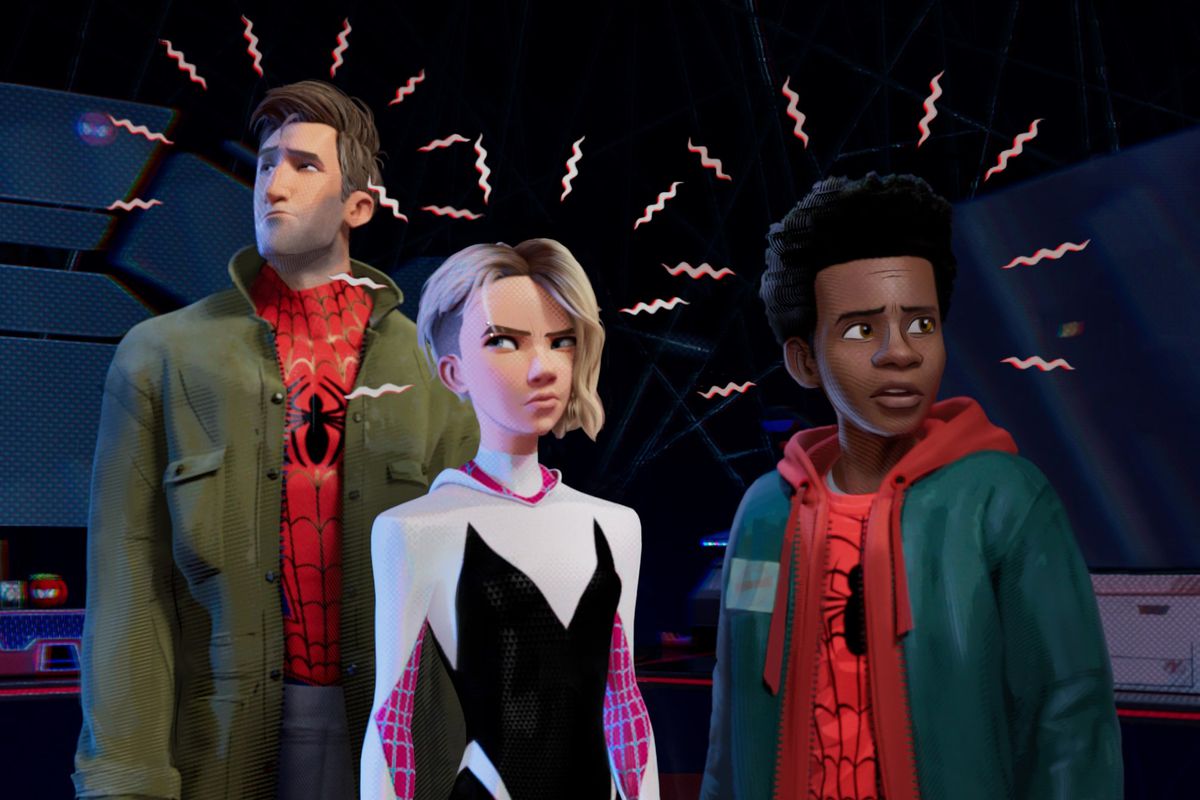 Back when Sam Raimi's first "Spider-Man" movie hit theaters in 2002, we all thought it would go down as the definitive version of the web-slinger and nobody would ever replace Tobey Maguire. Since then, however, there have been multiple reboots with Andrew Garfield and Tom Holland inheriting the role. Although he's finally part of the MCU, Sony has spun their own web of projects centered around Spidey, including the animated "Into the Spider-Verse." At this point, anything "Spider-Man"-related should feel redundant, but there are several aspects that set "Into the Spider-Verse" apart. For starters, it's well aware that Spider-Man has become overexposed and we've heard Peter Parker's origin story one too many times. Thankfully, Peter Parker isn't the protagonist of this film, although we still get a fresh take on the OG Spider-Man.
Ever since he made his debut in 2011, comic readers have been clinging to see fan favorite Miles Morales on the big screen. Shameik Moore takes center stage as Miles, a Brooklyn teen who's brilliant but lazy. Aside from attending a charter school, Miles has an otherwise average life with loving parents (Brian Tyree Henry & Rio Morales), a fun uncle (Mahershala Ali), and a cool crush named Gwen Stacy (Hailee Steinfeld). His universe is turned upside down, however, when Miles is bitten by a radioactive spider and gains super abilities. While that might not sound like anything new, this is where matters get interesting. The villainous Kingpin (Liev Schreiber) has developed a super collider that allows multiple realities to cross paths. Miles thus runs into an alternative version of Peter Parker (Jake Johnson), who – similar to Luke Skywalker in "The Last Jedi" - has grown tired in his old age and is ready to call it quits as Spider-Man.
Peter isn't the only Spider-person Miles encounters, as it turns out Gwen is from another universe where she protects New York as Spider-Woman. There's also Nicolas Cage as the brooding Spider-Noir, Kimiko Glenn as the anime-esque Peni Parker, and John Mulaney as Spider-Ham, no relation to Spider-Pig from "The Simpsons Movie." Each of these characters has their own distinctive style and movements, making for a lot of fast-paced interplay. One can't help but wish there was more time dedicated to some of the supporting players, particularly Zoë Kravitz as Mary Jane Watson and Lily Tomlin as a badass Aunt May. Of course, they're not the focus of the story. The heart of narrative lies in the dynamic between Miles and Peter, as one learns how to be his own Spider-Man and the other discovers that there's still more good he can do.
"Spider-Man" movies are known for packing in too many villains and "Into the Spider-Verse" comes dangerously close to repeating this mistake. In addition to Kingpin, the film also features Kathryn Hahn as Doc Ock, Jorma Taccone as Green Goblin, Marvin "Krondon" Jones III asTombstone, and a few others. To the film's credit, though, each villain plays a vital role in at least one inventive set piece that furthers the story. So, it's not hollow fan service, as was the case with Venom in "Spider-Man 3" and Rhino in "Amazing Spider-Man 2." On top of that, the film does a much better job at establishing the main villain's motivation. Kingpin is a ruthless thug whose appearance alone is daunting, but we do understand why he's willing to go to such extreme lengths to get what he wants.
Akin to "Avengers: Infinity War" and "Captain America: Civil War," it's beyond impressive that the filmmakers are able to juggle so many character as well as they do while still finding room to tell a compelling story. What's more, every frame of "Into the Spider-Verse" is a visual marvel. Much like how "The Lego Movie" felt like a brickfilm on a multi-million-dollar budget, this film actually makes the audience feel as if they've been sucked inside a graphic novel. This isn't surprising, as Phil Lord and Christopher Miller worked on both of these modern animated classics. The attention to detail is so great that viewers can even spot those little bumps one would find on a comic's printed page.
In the same vein as "Batman: Mask of the Phantasm," "Into the Spider-Verse" is an animated incarnation that succeeds in outshining some of its live-action counterparts. If I had to rank all of the Spider-Man movies, Sam Raimi's "Spider-Man 2" would still come out on top. "Into the Spider-Verse" would swing into second place, however, with its self-aware humor, dazzling animation, and unbound imagination. Going into the theater, you might share Kisten Dunst's sentiment that Sony and Marvel have been "milking" the franchise. By the time the credits roll, though, you'll find that the possibilities are truly endless.
Grade: 4 out of 5 Stars