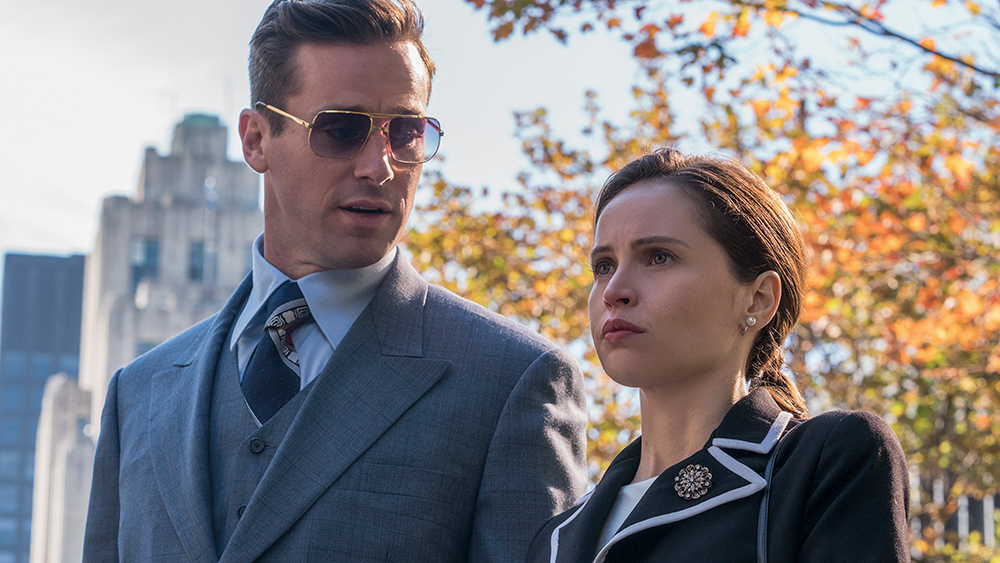 Ruth Bader Ginsburg is often regarded as someone who peaked later in life, as her popularity has only skyrocketed since President Clinton appointed her to the Supreme Court 25 years ago. Of course, if you're familiar with Ginsburg's full backstory, you'd know that she accomplished a great deal before becoming one of the first female justices. For all we know, Ginsburg probably could've accomplished even more had it not been more a sexist society that's come a long way since the 60s and 70s, but still has a long way to go. Given today's political climate, the United States needs Ginsburg now more than ever. With that in mind, it's fitting that 2018 brought not just one, but two films about her.
Earlier this year, Ginsburg's life and achievements were thoroughly explored in the documentary "RBG." "On the Basis of Sex" doesn't cover as much base as that film, but it does shine the spotlight on a case that would help define both her legal career and fight against sex discrimination. It's not the most profound movie ever made about gender, sexism, and equality. Had it not been for Ginsburg's influence, though, it's possible that many of those other films would cease to exist. On that basis, this is a more than admirable representation of an American trailblazer.
Felicity Jones gives one of her best performances as a young Ginsburg, who sticks out like Elle Woods when she arrives at Harvard Law School. The university only recently started accepting women and still undermines female students around every turn. Ruth does receive unwavering support from her husband Martin (Armie Hammer), although he needs her support just as much upon being diagnosed with testicular cancer. Through thick and thin, Ruth and Martin always treat each other as equals with neither trying to assert dominance in the household. The rest of the country sadly doesn't share this outlook, as not a single law firm will take Ruth on after she completes her education.
For a while, Ruth seems content with shaping the country's youth as a professor. She sees the potential to shape the country on the whole, however, upon learning of a man taking care of his invalid mother who's been denied a tax deduction due to his sex. Exemplifying how gender discrimination doesn't solely apply to women, Ruth decides to take the case to the U.S. Court of Appeals. Along the way, she receives help from his family and a journalist (Justin Theroux) who knows how to work the system. Ruth must also go up against her old Dean from Harvard, Erwin Griswold (Sam Waterston).
"On the Basis of Sex" is ultimately an involving legal drama with a message that carries weight even to this day. If there's a downside, it's that there aren't a ton of surprises, as director Mimi Leder and first-time screenwriter Daniel Stiepleman hit most of biopic beats one would expect. For all the familiarity, though, the film does its subject matter justice with a strong ensemble and a lesser known chapter in U.S. history worthy of further examination. Unlike the person at its center, "On the Basis of Sex" might not change the world, but it does leave us hopefully for a better tomorrow.
Grade: 3.5 out 5 Stars