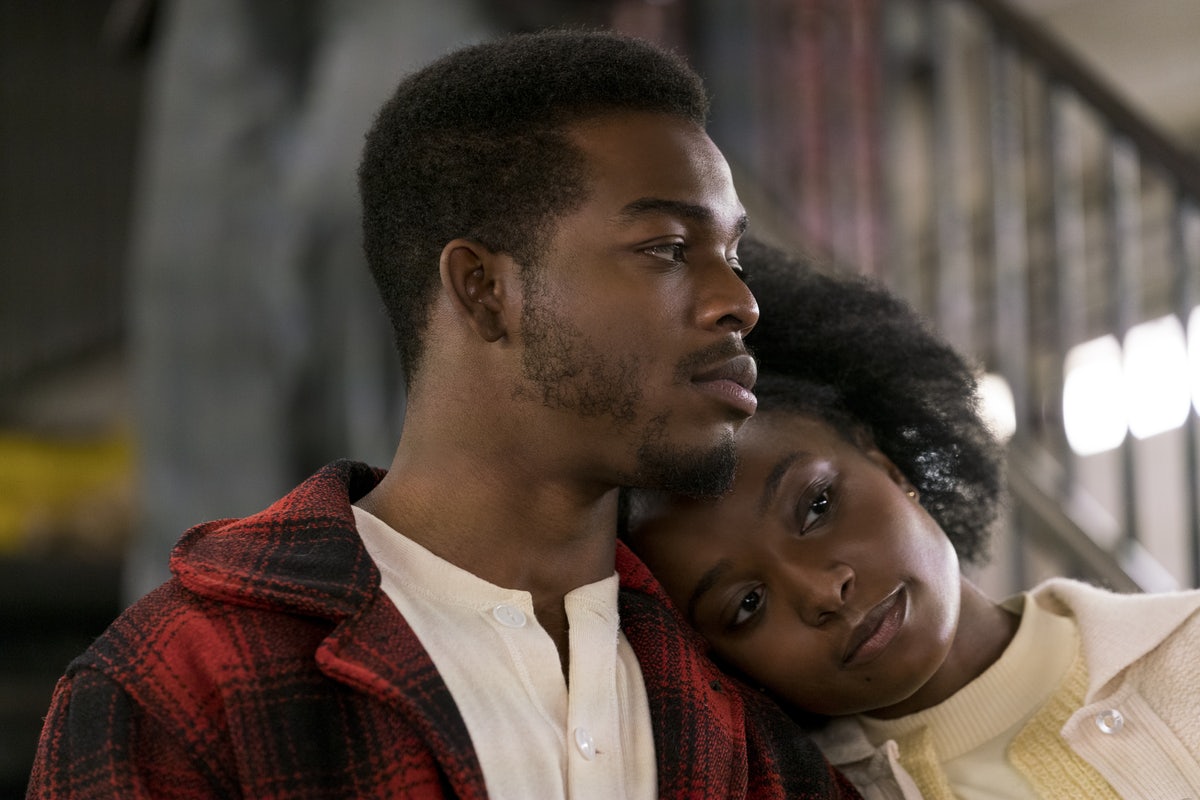 "If Beale Street Could Talk" is about an African American man who is incarcerated for a crime he didn't commit. The film isn't so much about fighting the power, though, as it is about feeling powerless. Almost everyone in the film, from the rape victim, to the accused, to the family members involved, can identify with the hollow sensation of not being able to do anything in a horrible situation. The only people with any power are the ones who have rigged the quote unquote law. If Beale Street really could talk, it'd tell us that injustice is around every corner. Since it can't, however, these injustices must speak for themselves and we can only hope people will listen.
Like "Three Billboards Outside Ebbing, Missouri," the characters here spend much of the story searching for answers only to come up emptyhanded. Occasionally it looks like everything might come together, but that makes it all the more depressing when there's another dead-end. That's not to say the film is all gloom and doom, however. For all the hardships our characters endure, there is a beautiful romance and message about persevering even when the corrupt system comes out on top. Beale Street may be overrun with prejudice, it's also a place where love flourishes.
KiKi Layne gives a stunning breakthrough performance as Tish, a young woman who finds herself pregnant with the baby of Stephan James' Fonny. These two share lovely chemistry that couldn't feel more authentic, but are pulled apart when Fonny is accused of raping another woman. This amounts to an especially uncomfortable conversation between Tish and Fonny's parents where the hateful words said are even more shocking than the acts of physical abuse that ensue. Tish thankfully receives support from her own family, particularly Regina King in a Best Supporting Actress caliber performance as her fiercely dedicated mother. Although Tish holds onto hope that Fonny will be freed in time for the birth of their baby, history shows that she's wishing for the impossible.
Rather than following a conventional three-act structure, "If Beale Street Could Talk" feels more like a series of memories. Many characters pop up and are never seen again, but each leaves a significant impact. Another standout performance comes from Brian Tyree Henry as a friend who's haunted by the time he spent in prison and is even more haunted by the prospect of one day going back there. The most uplifting moments are when Tish and Fonny are alone together, separated from a world of racist cops and feuding family members. Whether or not love conquers all in the end, the passion these two have for each other is forever unyielding.
"If Beale Street Could Talk" is director Barry Jenkins' follow-up feature to the Best Picture-winning "Moonlight," reuniting him with cinematographer James Laxton and composer Nicholas Britell. "Moonlight" is the more unique film of the two, but Jenkins brings the same personal touch to this adaptation of James Baldwin's highly relevant novel. Between "BlacKkKlansman," "Black Panther," "Blindspotting," "The Hate U Give," "Sorry to Bother You," and "Widows," 2018 has been a phenomenal year for diversity in Hollywood and stories about race relations. "If Beale Street Could Talk" demonstrates that there's still a lot to be said, which will hopefully inspire more films as powerful as this one in 2019.
Grade: 4 out of 5 Stars