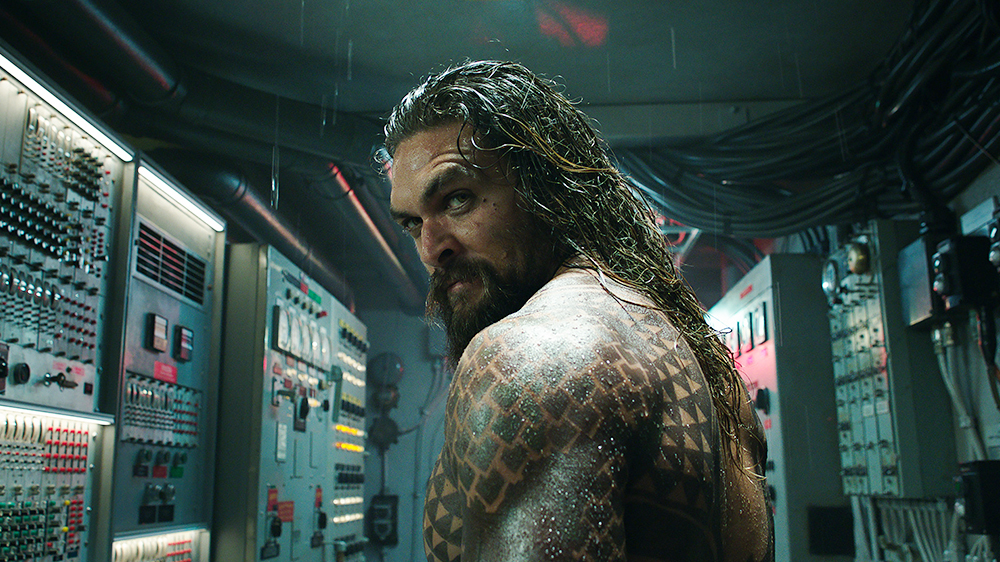 When it was announced that Warner Bros. was moving forward with the DC Extended Universe, the projects that seemed to have the most potential were "Batman v Superman" and "Justice League." Fans were more skeptical of "Wonder Woman" and "Aquaman," as both characters were strangers to the big screen. Aquaman in particular isn't the easier character to bring to life, what with his silly costume and even sillier powers. In an ironic turn of events, though, the DCEU movies audiences were most excited for fell short of expectations while "Wonder Woman" ended up being one of the best superhero movies ever made. "Aquaman" doesn't reach the same heights as the DCEU's finest hour, but it doesn't sink to the lows of this franchise's worst offerings either. At its best, the film gives us a modern, identifiable, and even badass interpretation of a character we never expected to be done justice in Hollywood.
While Jason Momoa previously appeared as Arthur Curry in "Justice League," this solo outing delves deeper into his backstory. The son of a mortal lighthouse keeper (Temuera Morrison) and the Queen of Atlantis (Nicole Kidman), Arthur is the rightful heir to the underwater kingdom. Having been seemingly abandoned by his mother, his loyalties remain to the surface world. Arthur is convinced to fight for the throne, however, when his half-brother Orm, aka Ocean Master (Patrick Wilson), plans to wage war against humanity for polluting the sea. Arthur is aided by a future aquatic queen named Mera (Amber Heard), his old mentor Vulko (Willem Dafoe), and a school of other creatures under the sea.
"Aquaman" struggles in the pacing department during its first act, as we're bombarded with a lot of complicated exposition, not to mention characters who aren't given proper introductions. It doesn't help that the Atlanteans almost sound like they're gargling whenever communicating underwater, making it difficult to catch crucial plot details. Fortunately, most of the dialog-heavy scenes take place above land while the ocean is reserved for action set pieces. That being said, this is easily the most visually interesting DCEU to date. Much like Gotham City in Tim Burton's original "Batman," Atlantis practically splashes out of the comics and into reality. It's a phenomenally crafted location that leaves you wanting to learn more about its culture, technology, and history. Even when an effect is obviously computer-generated, you can always sense the creativity and passion that went into making it.
As rocky as the first half-hour or so is, "Aquaman" eventually finds its footing as a breezy treasure-hunting movie. The fate of Atlantis depends on Arthur and Mera uncovering the long-lost Trident of Atlan, taking them to the Sahara Desert, Sicily, and several other scenic spots. The film is actually very much in the spirit of the "Indiana Jones" movies, which managed to take themselves seriously while still being playfully self-aware. Likewise, the film's depiction of Aquaman strikes a solid balance of godlike and down to earth. He's someone who will fearlessly swim headfirst into battle, but is still the kind of guy you can have a drink with.
Arthur's character arc admittedly would've been more compelling if he had a stronger antagonist to go up against. While his motivations are relatable, Orm is a fairly bland villain when stacked up against Killmonger or Loki. Arthur actually has a far more interesting rivalry with Yahya Abdul-Mateen II's David Kane, who's given a legitimate reason for wanting Aquaman dead. While we do get to see Kane suit up as the bug-eyed Black Manta, his alter ego's screen time is restricted to one fight against Arthur. This action sequence alone is so dazzling, though, that you look forward to seeing a rematch in the inevitable sequel.
Director James Wan and company have turned in a refreshingly self-contained adventure that works as both a standalone outing and a piece of a larger cinematic universe. The filmmakers never forget that this is Arthur Curry's story, which has just enough pathos, splendor, and fun to stay afloat. In a year that brought up "Black Panther," "Avengers: Infinity War," and "Spider-Man: Into the Spider-Verse," it's not a game-changer by any means. After hitting some rough waters, though, it succeeds in fishing the DCEU out of trouble and redefines Aquaman for a new generation.
Grade: 3.5 out of 5 Stars